florence house CARE HOME - FRIENDLY PERSON-CENTRED CARE
Florence House Residential Care Home in Porthill, Newcastle-under-Lyme, Staffordshire, welcomes long term and short term residents and specialises in residential and dementia care.
All of our 36 bedrooms, living rooms and other communal rooms are furnished to a high standard. All bedrooms have wall mounted flat screen TV/DVDs.
Florence House care home's relatively small size and highly trained staff helps to create a friendly little community. Expert carers are available, 24 hours a day, 7 days a week.
Each resident is given a tailor made Personal Care Plan which maximises comfort and well-being within the home.
When carers or family members need a break we are happy to accommodate short stay residents, ideal for when a carer is unavailable over a holiday period.
Florence House residents have their own personal salon within the building, with expertly trained hairdressers on site weekly. The home also has a sensory garden, ideal for relaxing in during the summer months.
For more information about Florence House - please click here to contact us.
To see what's going on in this care home visit Florence House's Facebook Page.
To see all Safe Harbor events and activities visit Safe Harbor Facebook Page.
---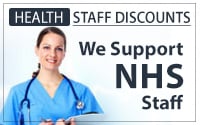 Click here for directions to Florence House
Florence House
Porthill Bank
Staffordshire
ST5 0AE
Our homes