CLOVERFIELDS CARE HOME - PROVIDING EXPERT NURSING IN WHITCHURCH, SHROPSHIRE
Cloverfields care home in Shropshire provides residential, nursing and palliative care in beautiful surroundings. Based in Whitchurch, Shropshire, this spacious and welcoming care home features 34 bedrooms for a comfortable and quality stay. Whether it is a short or long term stay, let our qualified and friendly staff look after you or a loved one today.
More Than Just a Care Home
Whilst our primary function is to provide you with a safe and secure nursing care home in Shropshire, we also want to ensure that our residents can continue with their normal lives and enjoy a pleasant experience during their stay at Cloverfields.
Some of the features of our care homes include:
Activities such as live music entertainment, days out to local attractions and trips in and out of Shropshire and games

Walks and armchair exercises to keep our residents mobile and healthy

Meals provided by our expert head chef

Communal lounges to encourage socialisation between residents

Personal laundry and housekeeping

Patio and garden with seating and a summerhouse so that residents can get some fresh air
Caring & Qualified Staff
As well as having qualified care staff and nurses looking after our residents around the clock, at Cloverfields care home in Shropshire we also specialise in providing care for those with life-threatening illnesses, as well as palliative care. Cloverfields care home has been given a 'Good' rating by the Care Quality Commission - rest assured that it has been thoroughly assessed to meet all regulations.
Safe & Secure For Your Peace of Mind
Cloverfields care home in Shropshire is manned 24 hours a day, 7 days a week with care and nursing staff always on hand to look after our residents' needs at any time.
What Makes Cloverfields Nursing Home in Shropshire Different?
We perform a completely free health needs assessment so that we can understand each resident's needs on an individual basis. Whether that's dietary requirements or health concerns, our Personalised Care Plan also ensures that the transition into our care home in Shropshire is comfortable and takes into account the resident's own visions and aspirations.
Unlike some other care homes, we also encourage our residents to stay active, socialise and keep themselves engaged. Our care staff facilitate a range of regular activities, which we find can help to improve their mental and physical wellbeing.
Ready to Arrange Care in Whitchurch, Shropshire?
With over 30 years of experience in providing quality care for residents in and around the Shropshire region, choose our care home in Shropshire today for a welcoming and holistic stay for you or a loved one. Get in touch with the Cloverfield care team on 01948 667 889 to arrange a FREE health needs assessment now!
For more information about Cloverfields Care - please click here to contact us.
To see what's going on in this home visit Cloverields Care's Facebook Page.
To see all Safe Harbor events and activities visit the Safe Harbor Facebook Page.
---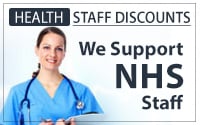 Click here for directions to Cloverfields Care Home in Shropshire
Chester Road
Whitchurch
Shropshire
SY13 4QG
Our homes